Today I'm sharing a wonderful essay from a writer friend, JJ Pritchett … I hope you enjoy it as much as I did! Fear is one of those things that can grip us, tightly; especially on this adventure of motherhood. Remembering that fear has no place in our success is a timely reminder as we celebrate our role as mamas this coming Sunday.
---
Last night, I received a firm shove from a dark blob standing to the right of my bed. It was ten year-old Conner. Even though he is a familiar sight in those wee hours of the morning, his pay–attention–to-me shove startled me into a small yelp and sudden jolt. I shouldn't have been so shocked. Before his nightly visits, six-year-old Bailey Joy and I had much the same routine. It's been years since I have said "Goodnight" and gone on to actually have one. My husband, Phil, hates being awakened in the middle of the night. It startles him so much that his adrenaline keeps him up for hours. Me? I don't mind so much. I can empathize with nightmares. Everything from monsters to naked teacher dreams spook me on a regular basis. In them, I run from the monster; I am the teacher. Much of the time when first- born, Bailey was waking me up to be comforted, she was doing me a favor. I was having a nightmare all my own and her hushed entrance into my bedroom helped to snap me out of it.
Fear is something I shoo into the background music of my life during daylight hours. It is smushed into the clutter of my overactive brain between paying bills and making dinner. It whispers to me when I hear a police car siren, and when I read the local news… but, like organizing my closet and filing my insurance paperwork, there is not much time for it.
That is, until (now 16 year-old) Bailey got her driver's license and drove off without me for the first time. Sure, life was still a symphony of cleaning, cooking, exercising, working with students, and returning phone calls, but instead of relegating it to the background, I set up a little picnic table and made Fear and its cousins Worry and Angst my guests of honor. I talked about them, dreamt about them, and tried to convince others to take a seat and spend valuable time with these joy robbers as well.
When my niece began taking driver's ed, I cautioned my sister to count the cost of having a child who drives. She wouldn't take the bait. Undeterred, I persisted, "So much can happen to them, Barbie," I warned. When I heard the silence on the other end of the phone line, I continued by itemizing the potential pitfalls of this teenage rite of passage. I could hear myself trying to pass the fear along like a hot potato. I was saying, "Here. Take this. It is burning me. It's your turn now." But she wasn't having any of it. She was actually excited for her daughter's new-found freedom. Crazy.
In saner times of life, I am able to remember and even implement verses like Psalm 27:1 "The Lord is my light and my salvation, whom shall I fear? The Lord is the stronghold of my life, of whom shall I be afraid?"
But when Bailey and her two younger siblings pile into the 1996 Buick Cierra she nicknamed, SISTER MARY FRANCIS I can't help but wince. I watch and wave for far too long as that old Buick rounds the corner and carries my three babies into the distance, out of my reach. Out of my control. I stand alone in the driveway, silently praying for their safety, and my sanity. A faint voice reminds me of a scripture that I memorized when I was a kid, long before I became the expert in worry that I am now. "Therefore I tell you, do not worry about your life, what you will eat or drink; or about your body, what you will wear…" but I do. I do.
And, truth be told, it's not just the kids I worry about. There's also that silent question that follows many of my friends and me around, with its familiar, accusing tone. It asks, "Am I good enough?" Oh, and by good I do not mean morally right. I mean fit, funny, smart, nice, helpful, hard working, and loved. We get invited to other people's houses, and go home wondering if we are good decorators. Someone makes us a wonderful meal, and we ask ourselves if we, too, are good cooks. We linger on Pinterest, and before we finally click off, we silently gasp, "Oh my gosh! I forgot to reupholster the seats in my van!" And ever so subtly we believe that, sure enough, there's a whole other level to human existence that has eluded us. A small belief wanders into our thinking,and accuses, "Girl, you missed the memo." Since most of us have been believing sneaky lies about our worth since we were kids, we have a hard time recognizing that, without consciously agreeing to, we believe lies about ourselves several times a day. We worry that we don't own enough, our kids aren't getting what they need, the food we are eating is contaminated, our husbands don't love us, or we are, in some way, unsafe. Worry-fear- anxiety-panic … We don't even realize how often they knock on the door of our minds in some way, trying to gain entry. And if you aren't thinking about it, it's easy to just let them in. But then, there's that steady reminder:
"Seek ye first the kingdom of God and his righteousness…and all these things will be added unto you."
If I stop to listen, I can I hear the Spirit saying, "Make way. Clean out a space, do some weeding. Fear and love don't grow together. Since only one of them can thrive at time, choose love. Always choose love."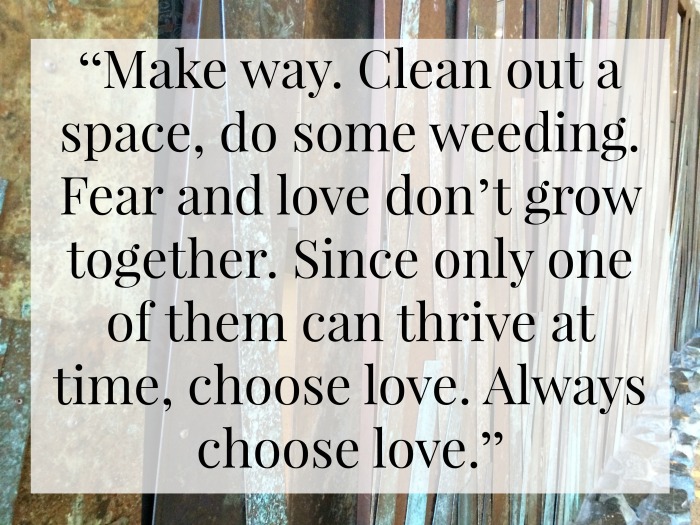 When I hear about about almost any tragedy I swat away a voice that murmurs, "You are next. You have to be next." But even louder I hear God's voice saying,
Be not fear.
Act not fear.
Speak not fear.
Show not fear.
Preach not fear.
Time consuming task, that one. Don't just seek it, go on a hunt for the kingdom of God. Seek peace. Wear yourself out in the pursuit of it.
The truth is, the things that hurt us are not made less powerful by our constant worry. We can't predict what will happen next. The furrowed brow of anxiety and the restless nights of strategizing against harm, are simply stealing the joy that's right under our noses — ready to be snatched up, if we just say yes to the steadfast counsel of the angels all around us. Life is waiting. SISTER MARY FRANCIS is gassed up and ready to go.