Welcome to the Festival of Food Carnival. In celebration of the New Year and Healthy Starts, we're sharing recipe ideas for healthy, nourishing recipes or anything you would enjoy this time of year. Hosted by Diary of a First Child and Hybrid Rasta Mama, you're welcome to join us next time, or if you have a previously published recipe you'd like to share, add it to the linky below.
I won't go as far as to say that I'm making a goal to lose weight in 2013, but there are some baby pounds I may or may not being striving to get rid of. Ideally I'll do this through some kid-friendly exercise (swift walks with the stroller and family yoga, anyone?) and a boost in some healthy menu planning.
First on the menu … Skinny Taco Soup. A yummy blend of healthy, low cal ingredients that will help us all shed a few pounds in January.
I pulled this delish recipe from the archives of my cookbook this week in preparation for the soon-to-be-slender me. It's from one of my dearest friends whom I consider my resident health nut. Consider it a bonus that it's made in a blender … does it get any easier than that? I think not.
SKINNY TACO SOUP
Ingredients
2 Roma tomatoes
1 stalk celery
1 thin slice of onion
2 carrots (or a handful of baby carrots)
1 clove garlic
1/2 packet of taco seasoning
Various other veggies: peppers, squash, cabbage, etc.
Directions
Wash, peel, dice, and prep each veggie
Add everything to a blender (I have an antique Vitamix and can't even begin to tell you how much I adore it!) and puree with 3 cups of boiling water
Pour into bowls and enjoy plain or portion out a few goodies (corn, cheese, olives, chips, or sour cream) to fancy it up
*********** Please take a moment to visit the blogs of our other Festival of Food participants. The links in this list will be live by the end of the day, as participants are all in different time zones.
Stay connected! Be sure to "Like" the Festival of Food Carnival Facebook page.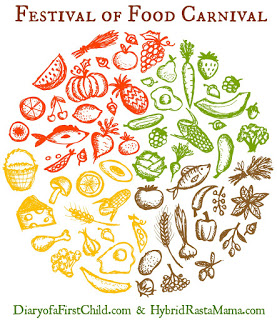 (Visited 43 times, 1 visits today)
You May Also Like: